I read a medical school classmate's "25 Things" list on Facebook, and he revealed that he often cries when reading stories to his daughter at bedtime. I thought it was awesome that he revealed that, foregoing the macho crap that society usually puts on us guys.
My thoughts then wandered to my own tearful experiences with children's books, and one book in particular.
Old Coyote
does it to me every time. It's really a conditioned response, at this point. It's a great book, really well done, and it hits a deep nerve with me - gets in there way down deep in my soul. Hmm, I'm feeling a little emotional just typing about it, seriously.
I first came across the book a couple of years ago in a gift shop in downtown Santa Fe. Every year or two, we like to visit Gail's family in Los Alamos and shop in Santa Fe for art. This day, Gail, Nolan and I had lunch at the
Hotel Santa Fe
, and we looked around the lobby shops on our way back outside. Gail and Nolan had found something else to occupy them in the store, and then Gail came up and asked why I was crying. I told her about the book, but I decided not to buy it because it was full price, and I'm such a bargain hunter. I think now that I was just rationalizing my avoidance of the deep emotions that the book stirred up.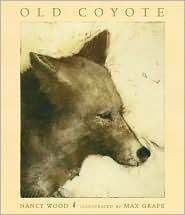 by Nancy Wood; illustrations by Max Grafe.
About a year later, I was browsing a Book Warehouse when I came across a copy. I knew I had to buy it. How I enjoy that book. The prose is tender, thoughtful, and rich. The illustrations are perfect - you can see the age and emotion in Coyote's face. I learned on the
Barnes and Noble
web site - where copies are available, cheap - that the author, Nancy Wood, has a long friendship with the Taos Pueblo Indians, so there's no doubt that it resonates with me because of the Native American themes of the circle of life. I'll let you read the synopsis and review on the B&N web site - I could not describe it better. I just felt the need to blog about this book.